Blog
| February 19, 2019
Corridor Monitoring - What It Is and Why We Do It
by Lucy Cantwell
Walking the boundaries of Appalachian Trail lands to prevent encroachments is an essential part of our responsibilities as a maintaining club.
It's the time of year for the Allentown Hiking Club to do our annual corridor monitoring. We talk about it a each meeting, but some of you may wonder, "What is this all about?" Here is a brief explanation of this annual activity.
A critical component of our duties as a maintaining club of the AT is corridor monitoring and boundary maintenance: keeping a close eye on the federal estate purchased to protect the Appalachian Trail. The AT "corridor" is the land owned by the National Park Service that extends a few hundred feet on either side of the trail. Corridor monitoring means walking along and examining the border of this NPS land and the adjacent lands ( for example, privately owned lands, state game lands, municipalities) to assure that all boundary markers are in place and no encroachments have occurred. This involves leaving the AT treadway and bushwhacking over rocks and through dense vegetation to locate "monuments," i.e., the markers installed by surveyors years ago to establish a line between NPS lands and that of neighboring landowners.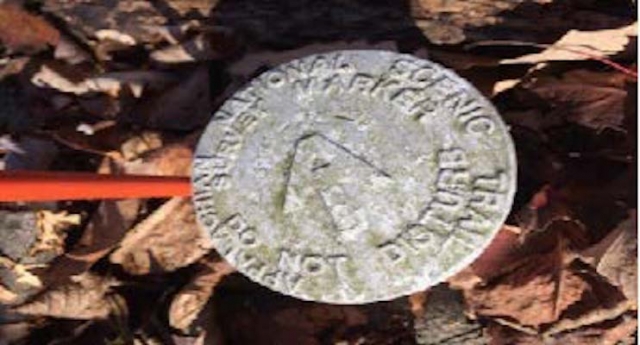 Encroachments, such as illegal dumping of waste, timber theft, rock piles, discarded machinery, hunting blinds, or evidence of incompatible uses such as ATVs are also documented. These discoveries are subsequently reported to the ATC (Appalachian Trail Conservancy) and corrective action is taken, if needed. During the monitoring we also post signage along the boundary lines, indicating which areas belong to the NPS. Volunteer monitors thus become the "eyes and ears" of state and federal landowning agencies. Monitoring helps assure the American public that its investment is being cared for and protected.
The Allentown Hiking Club monitors 35 tracts containing over 600 acres, which has 106 surveyor's monuments and 15 1/3 miles of exterior boundary. This is divided into 7 sections and is monitored by club members who commit to individual segments of about 4-7 miles each. Some of our monitors have been doing their sections for upwards of 20 years!
New volunteers are always welcome and encouraged to step up and join the action! If you think you might be interested in participating in the corridor monitoring, please contact the Monitor Coordinators listed on page 2 of the newsletter. We'd be happy to have you join one of the established monitors when they hike their section to collect the monitoring information. Also, keep an eye out for announcements on the AHC Forum, as monitors may post their hikes on the spur-of-the-moment, since good weather conditions are generally better for this activity. Be adventurous and come and see what it's all about!