January 16, 2020
Things Change - But Not Our Love of the Outdoors
by Karen Gradel
For a while now Barbara Wiemann has been organizing and digitizing the Club's archives. I was interested in seeing how the club has changed over the years, so I took the 1st box that covered 1931 to 1943 home.
The box is filled with meeting minutes, pictures, membership lists, newspaper articles and more. I started reading the first minutes and found that the first meeting was held Wednesday, Dec 2nd 1931 at Allentown City Hall. At that meeting the first officers were elected and the members picked the name as Allentown Hiking Club and set the fee to join the club at $1.00. They decided on a schedule of 2 Saturday hikes, one Sunday hike and a business meeting every month. The club's first hike was Dec 6th to the Pinnacle. They were informed they were responsible for maintaining of the Appalachian Trail from New Tripoli-Tamaqua Rd seven and a half miles west to Tri County Corner.
A big difference is how the hikes were scheduled. There was a Program committee comprised of 3 members that would create a hike schedule for the next 3 months. The upcoming hikes were announced at the meeting and 'sketches and descriptions were distributed to the members.' If there was a change in the schedule a postcard would be sent to each member detailing the change.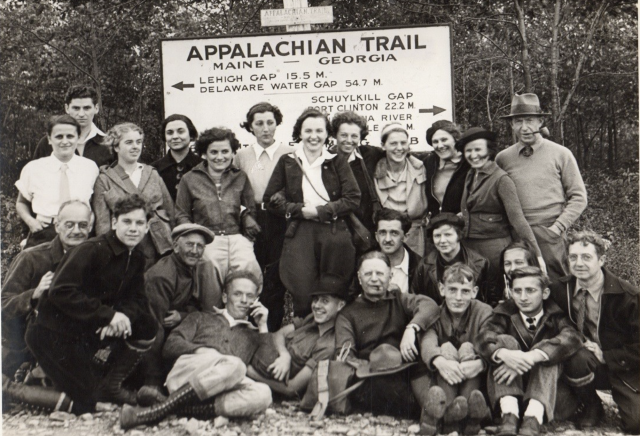 While reading through the minutes of the first few year's meetings, one of the most frequent subjects for discussion was transportation. We take for granted how easy it is to get to a hike. We just get in our cars and go but back then not everyone had a car. At the January 1932 meeting it was voted that everyone on a hike give 10 cents to the treasurer for a gasoline fund. In August 1932 the club decided to hire a truck and driver who would transport hikers a distance of fifty-seven miles for $5.50. At the August 1933 meeting a motion was approved to put out a box at each hike that required a car and every one could put in what they can and then it would be divided evenly among the drivers. And in September 1934 it was agreed that the cost of transportation to the hike would be determined during the planning and be announced with each hike.
While there was a lot different there were also some things that were the same. The most obvious is our love of the outdoors. One of the other similarities is the effort to recruit new members. Today one of our main sources is Social Media but back then it was more of a word of mouth approach. At the January 1938 meeting when it was announced there were 62 members the President urged members to 'try to interest other people and to make our club sound so interesting that other people would think it is a privilege to join.' And in January 1939 the Club President suggested everyone bring a non-member friend to the next hike to encourage new membership. Both are also good ideas for today.

January 16, 2020
New Arrival Dates for Newsletters
by Susan Meyer
A decision was made at the December meeting to change the delivery and planning months for the newsletter.
For this year only the Summer newsletter will consist of four months: April, May, June and July. Hike leaders please take this into consideration while planning your upcoming events.
- Summer Newsletter will be delivered in April 2020
- Fall Newsletter will be delivered in August 2020
- Winter Newsletter will be delivered in November 2020
- Spring Newsletter will be delivered in February 2021
Thank you for your time and flexibility.

January 16, 2020
More Trail Magic
On a cold and rainy Sunday in October a group of Club members took coffee and snacks to the Trail Crew who are working on the relocation of the trail from Ashfield Rd to Lehigh Gap. They had been working on the section for 6 weeks and completed one mile of trail. The crew came from all over, including West Virginia, Michigan and Maryland.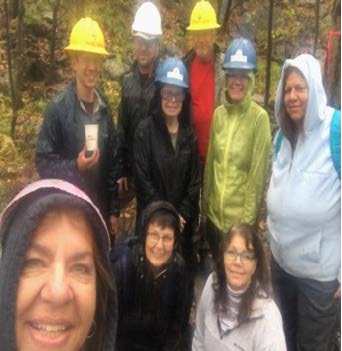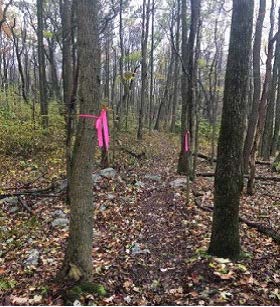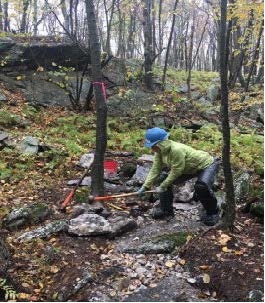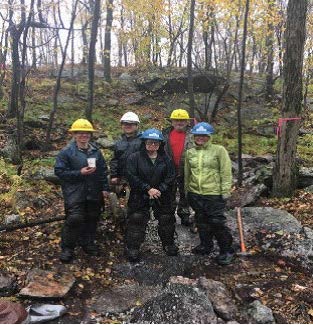 September 29, 2019
Fall Is Here
by Karen Gradel
Fall priorities include reporting your AT volunteer hours, learning about charcoal hearths on Blue Mountain, and attending our end of year events.
Summer is over and our trail maintainers have spent many hours clearing blowdowns, blazing, getting rid of invasive plants to keep the path clear. For all those who have helped with the maintenance thank you and don't forget to get your volunteer hours into Ed Ritter by Oct 9th. Also anyone else who has helped with corridor monitoring , leadership, administration, websites, newsletters, finance, etc. should submit hours too. Things not to report are participating in (as opposed to leading) recreational A.T. hikes, planning or attending social events, such as dinners and picnics, feeding hikers, a.k.a. 'Trail magic' or trail maintenance on trails other than the AT. Why is it important to report all of our hours? ATC uses the hours of all the volunteers to obtain NPS funding.
It is also the time of year we do Corridor Monitoring. If you are interested in helping with the monitoring or just want to go along and find out what is involved, keep your eye on the forum or contact Lucy Cantwell.
A 'don't miss' is the October presentation by Muhlenberg college Professor Benjamin Carter who will give a talk on his research of the charcoal hearths located on the Blue Mountain. There will also be a hike on October 5th to accompany his presentation and give us a 'first hand' look at the charcoal pits. Coming up we also have our holiday pot luck on December 4th, our holiday hikes and our annual New Year's Eve hike to the Allentown Shelter that has been a tradition since 1976.

September 29, 2019
Trail Magic Events
Photos from our annual effort to ease the burden of thru hikers as they make their way to Maine and Georgia.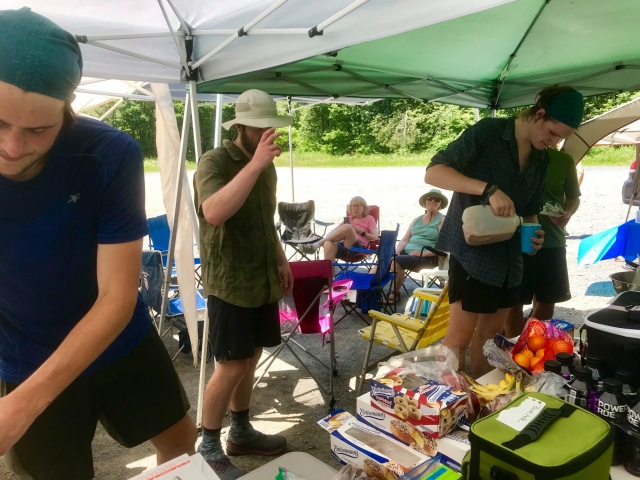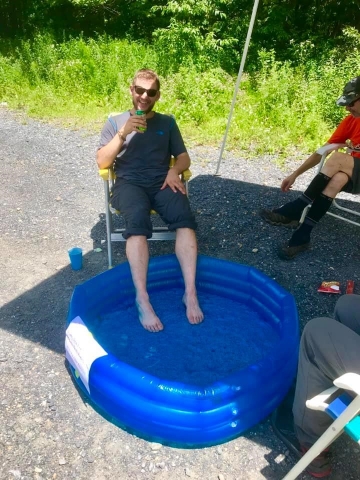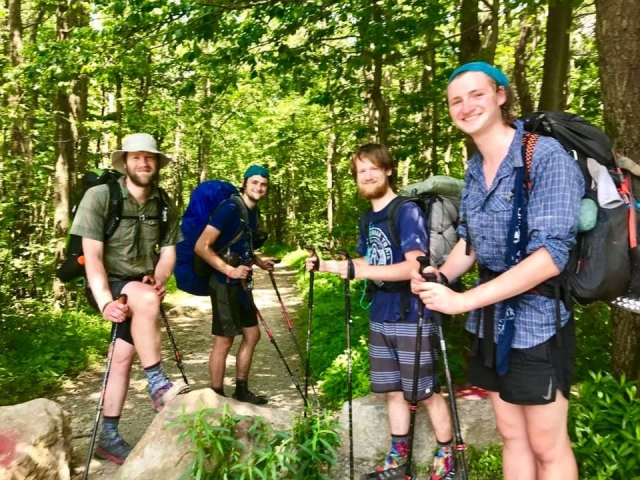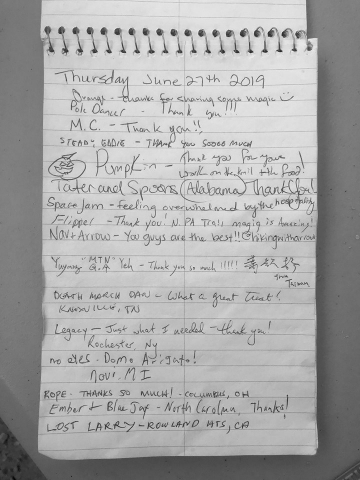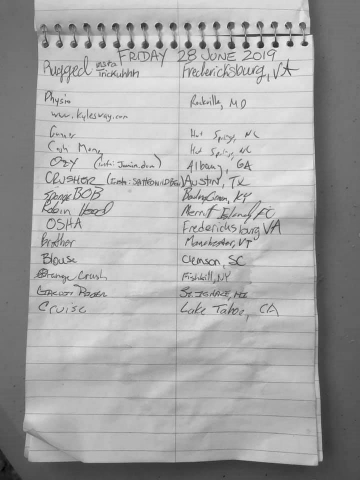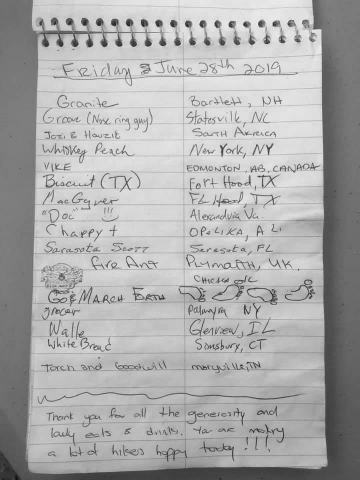 September 29, 2019
Second Section Hike on the Appalachian Trail
by Terri Stubits
Our Massachusetts summer section hike.
Last year, we (Neil and I, Tom, Patti, and their son Trip) did our first section hike on the Appalachian Trial in Virginia and decided to do another section hike this year. Tom and Trip have completed the AT in VA, WV, MD, PA, NJ, NY, and CT. They have completed about half of MA, and this is where we decided to section hike. Patti plans all the logistics, and I made reservations at the Berkshire Lakeside Lodge in Becket, MA for our first night after driving up. This lodge is 0.1 distance from the trail. The lodge also let us leave our vehicle there while we hiked. Our plan was to hike (Tues – Fri) from the lodge to Cheshire, MA, a distance of 28.3 miles. Shuttle back from Cheshire.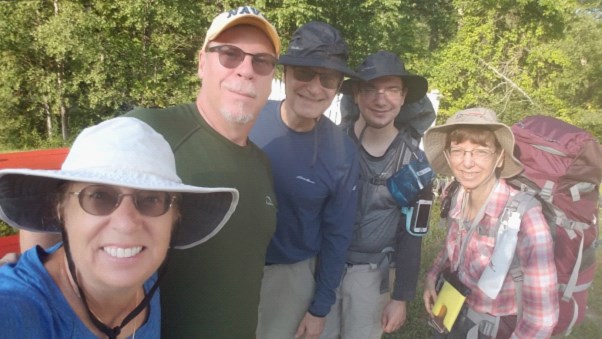 Tuesday morning we started out with a 780 foot climb up Becket Mountain, and continued to the October Mountain Shelter (7.2 miles). Because there was not a reliable water source near the shelter, we stopped 2 miles prior and filtered water and carried extra water to the shelter. The water looked like weak tea even after going through the filter, so I added tablets just in case. This tea tinted water tasted great! Really, it was delicious. Carrying the extra water weight for 2 miles was killer and Neil carried most of it for me. We arrived about 3 pm, and picked out a campsite. It immediately started pouring rain as soon as we got our tents up! Pounding rain for about 1 ½ hours, with water pooling around our tents. As the rain was stopping, we heard a loud thunk! A thick dead branch came down right between our tents. We made dinner (had mini bottles of wine a neighbor had given me, which Tom carried), wiped some of the mud off our tents, and got our bear bags ready for storing. This shelter has a bear box which is really nice. Downside was the mosquitos. Patti and I got bit the most, even after using bug repellent.
It didn't rain any more that night so our tents had a chance to dry out. Wednesday morning, while eating breakfast, we checked the weather for the Kay Wood Shelter (8.8 miles) and the forecast was for severe thunderstorms and heavy rain that day and into the night. We made a quick decision to hike 12 miles into Dalton, MA. Called for availability at the Econo Lodge in Dalton and made reservations. Now we just hoped we'd get to town before getting caught in the downpour. All day there was thunder but no rain. We stopped for lunch as well as several quick breaks. Tom brought Pellegrino which is very refreshing on the trail. Trip was out front setting a good pace, but I was struggling with all the ups and downs on the trail. Tom turned on his Bluetooth and started playing music. First song was "99 Luftballons" and it really helped me to keep going. I drank most of my 2 ½ liters of water and we stopped before getting to town to filter more water.
We walked to Angelina's Submarine Shop with cheesesteak bombs on our minds. It was about 5 pm and again just as we got there it started to rain. We left our packs out front under the picnic table umbrellas and went inside to order. These cheesesteaks are loaded with meat, nice and hot, so good. I took out my phone and ordered an Uber to take Neil and I back to Becket to pick up our truck. By the time the Uber delivered us to the Berkshire Lakeside Lodge, the rain had turned torrential with white bright lightening and booming thunder. Neil and I drove back to Angelina's to pick up Tom, Patti and Trip and drove to the Econo Lodge. Yah! We get to shower and sleep in a bed. Next morning all of us limped into breakfast (except Trip, he was good to go). It was still raining, and we decided to pack it in. We drove home a little short of our goal, but undeterred. We're already planning next year's section hike! Terri Stubits P.S. I caught a cold.