Displaying a Single Post |
Show Recent Posts
July 17, 2019
Ed Ritter Named Volunteer of the Year
Ed Ritter, AHC's Trails Chair, has been selected as the 2019 Volunteer of the Year by the Mid-Atlantic Regional Partnership Committee of the Appalachian Trail Conservancy.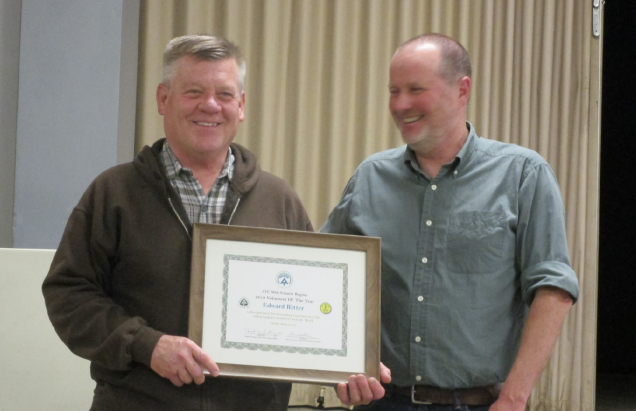 Ed's contributions to the Appalachian Trail spanned 30 years. In 1989, Ed and Frank Bertalan were appointed AHC Trails Co-chairs. Since 1992, when Frank became the AHC Monitor Chair, Ed has served as Trails Chair.

During these 30 years, Ed has organized Appalachian Trail work trips, supervised trail relocations, scheduled shelter caretakers, and performed thousands of hours of trail maintenance. The club built a privy and constructed a new shelter during his tenure. Ed is a certified sawyer, and handles blow down removal. He has participated in AHC's trail assessments, the trail inventory for APPA, and submits the club's hours report to ATC each year. Ed has worked with Scouts (such as projects to earn Gold Awards) and led a special work trip for Girl Scouts in conjunction with their 100th Anniversary Celebration. Ed compiled the club's Local Management Plans. In addition, Ed was a club corridor monitor for two areas for more than 25 years.
Edward Ritter is the consummate club volunteer. For 30 years, he has been the guiding force in maintaining and improving the Allentown Hiking Club's Appalachian Trail section of trail, and is very deserving of this honor. Congratulations and thank you to Ed!