Posts Filtered by Tag - Volunteer |
Show Recent Posts
September 29, 2019
Fall Is Here
by Karen Gradel
Fall priorities include reporting your AT volunteer hours, learning about charcoal hearths on Blue Mountain, and attending our end of year events.
Summer is over and our trail maintainers have spent many hours clearing blowdowns, blazing, getting rid of invasive plants to keep the path clear. For all those who have helped with the maintenance thank you and don't forget to get your volunteer hours into Ed Ritter by Oct 9th. Also anyone else who has helped with corridor monitoring , leadership, administration, websites, newsletters, finance, etc. should submit hours too. Things not to report are participating in (as opposed to leading) recreational A.T. hikes, planning or attending social events, such as dinners and picnics, feeding hikers, a.k.a. 'Trail magic' or trail maintenance on trails other than the AT. Why is it important to report all of our hours? ATC uses the hours of all the volunteers to obtain NPS funding.
It is also the time of year we do Corridor Monitoring. If you are interested in helping with the monitoring or just want to go along and find out what is involved, keep your eye on the forum or contact Lucy Cantwell.
A 'don't miss' is the October presentation by Muhlenberg college Professor Benjamin Carter who will give a talk on his research of the charcoal hearths located on the Blue Mountain. There will also be a hike on October 5th to accompany his presentation and give us a 'first hand' look at the charcoal pits. Coming up we also have our holiday pot luck on December 4th, our holiday hikes and our annual New Year's Eve hike to the Allentown Shelter that has been a tradition since 1976.

September 8, 2019
A Chance Encounter with Trail Maintainers in Maine
By Hal Wright
The man carrying a chainsaw to Little Bigelow Lean-to stuck out his hand and introduced himself: "Hi, I'm Hawk Methany." My canine companion Sofia and I would stay at the lean-to that night, waiting out a thunderstorm which threatened to bring hale and high winds, on the third night of a six-day section hike.
I knew of Hawk, the ATC's North Atlantic Regional Director, and joked that I was pleased to greet someone who is "AT famous." Hawk was soon joined by Maine Appalachian Trail Conference Board Member Tom Carr, and ATC employees Paige Gregory and Dan Hale. Tom also serves as the MATC's Hazard Tree Coordinator.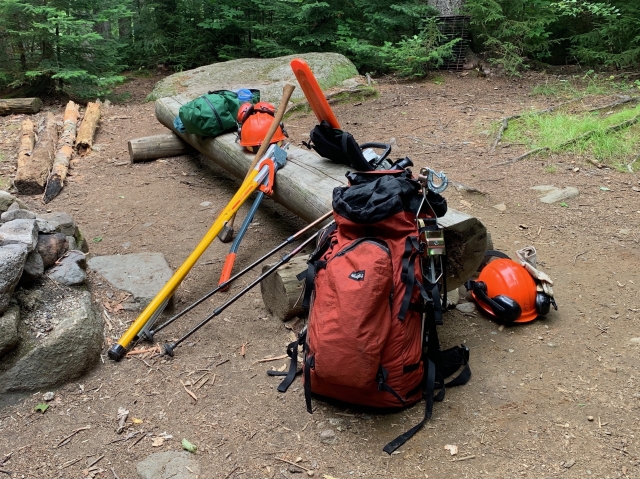 Everyone carried heavy tree-cutting equipment in and on top of backpacks. Their task was to cut down six hazardous trees which might fall, posing a risk to tent campers in the area of the shelter. Identifying the trees and cutting them down, using saws and tensioned ropes, took almost four hours of work.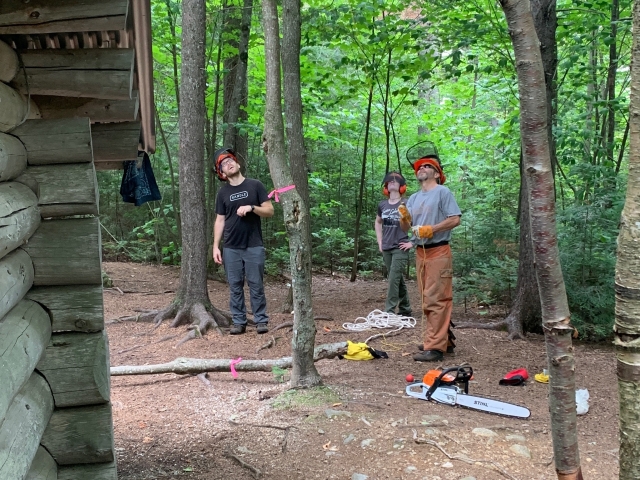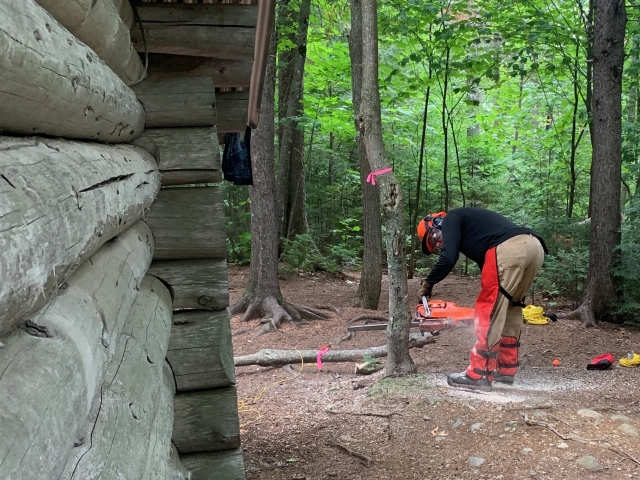 By the time the work was done, it had started to rain. The four packed up, said goodbye, and started the 1.5 mile journey back to the trailhead.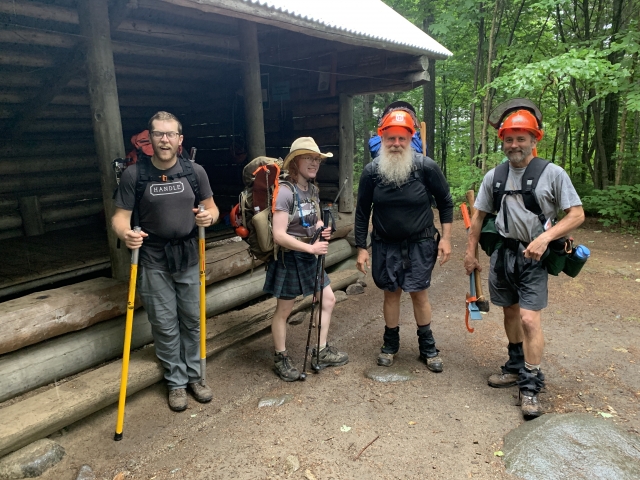 As one thru hiker put it, "Maine is a giant stone with trees trying to grow on it." Geology dictates the character of the Maine AT, creating streams to ford and random tangles of rocks, roots, and mud. But the hiker also encounters hundreds of bog bridges, and elegant flights of stairs made from nearby stones. As members of Allentown Hiking Club know, these and many other accommodations are the work of AT trail maintainers and builders, most of them volunteers from clubs along the trail.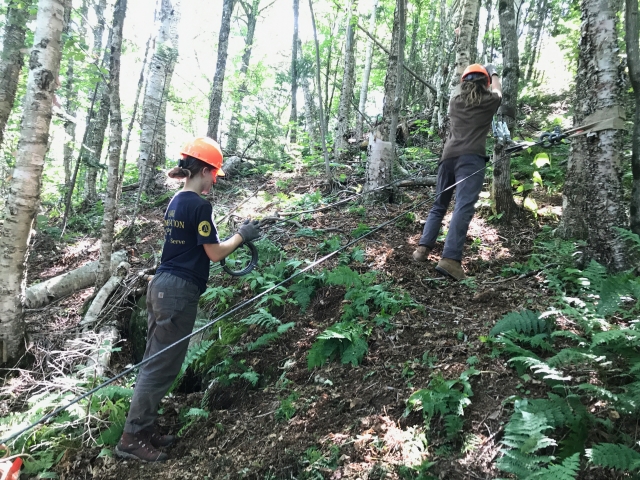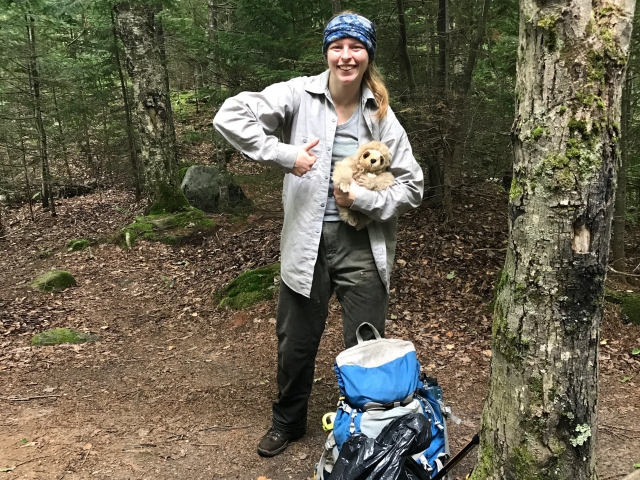 July 17, 2019
Ed Ritter Named Volunteer of the Year
Ed Ritter, AHC's Trails Chair, has been selected as the 2019 Volunteer of the Year by the Mid-Atlantic Regional Partnership Committee of the Appalachian Trail Conservancy.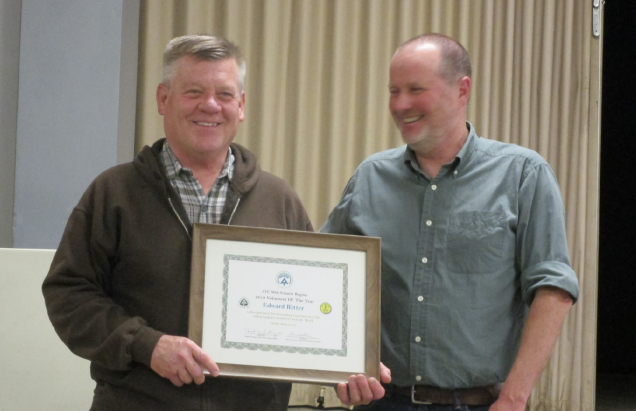 Ed's contributions to the Appalachian Trail spanned 30 years. In 1989, Ed and Frank Bertalan were appointed AHC Trails Co-chairs. Since 1992, when Frank became the AHC Monitor Chair, Ed has served as Trails Chair.

During these 30 years, Ed has organized Appalachian Trail work trips, supervised trail relocations, scheduled shelter caretakers, and performed thousands of hours of trail maintenance. The club built a privy and constructed a new shelter during his tenure. Ed is a certified sawyer, and handles blow down removal. He has participated in AHC's trail assessments, the trail inventory for APPA, and submits the club's hours report to ATC each year. Ed has worked with Scouts (such as projects to earn Gold Awards) and led a special work trip for Girl Scouts in conjunction with their 100th Anniversary Celebration. Ed compiled the club's Local Management Plans. In addition, Ed was a club corridor monitor for two areas for more than 25 years.
Edward Ritter is the consummate club volunteer. For 30 years, he has been the guiding force in maintaining and improving the Allentown Hiking Club's Appalachian Trail section of trail, and is very deserving of this honor. Congratulations and thank you to Ed!